Senior Pastor, Melvin B. Poe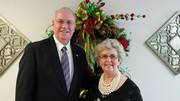 Bro. Poe has been pastor of Calvary Baptist Church since 1992. He was born and raised in Arkansas where he graduated from Marmaduke High School. He received his BA from Arkansas State University. Upon entering the ministry he received his Masters degree from Moody Bible Institute and his DM from Luther Rice Seminary. He is married to his high school sweetheart, Darylon (Fahr) Poe. They have one daughter, Melanie Martin, who is married to Andy Martin, a pastor in Pensacola, Florida. They have one granddaughter, Kait Martin, who is employed at Bramblett Group in Henderson, TN as an Account Manager and Public Relations Specialist. Bro. Poe's passion is preaching and teaching God's Word; seeing people saved and watching them mature in the Lord.
(Link to Pastor's Blog)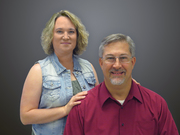 Associate Pastor, David Hagan
David joined Calvary's staff in 1997 and currently serves as our Associate Pastor overseeing ministries to Students and Missions. He is married to Dana Hagan and they have 3 grown children. Kailey, Korben, and Klayton. Dana currently works as a project manager at the University of Tennessee at Martin. David has a Diploma in Christian Ministry, an Associate of Divinity Degree and a Bachelor of Science in Organizational Leadership Degree, all from Union University, Jackson, TN. David is also the Upward Basketball Coordinator, a children's sports ministry program. He oversees a vibrant youth ministry at Calvary Baptist Church and teaches one of Calvary's newest and largest Bible Study classes, Life Group, each Sunday morning.
(Link to David's Blog)