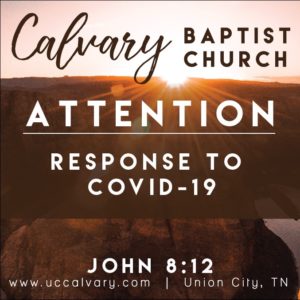 Click
here
if you need assistance during this time or are willing to assist.
Good Afternoon Calvary Baptist Church Family,
After many, many hours of prayers, meetings with fellow Pastors, contacting those in the medical field, reports from the TBC, and under the guidance and support of our Deacons and Yokefellows, we have made some changes to the Calvary Baptist Church calendar and we want you to be the first to know! We have prayerfully decided to move our Sunday morning and Sunday night services to LIVE-STREAMING. We will have one Sunday morning service
online at 10 AM and one Sunday night service online at 6 PM and starting tonight (Wednesday) at 6:30 PM. We have decided to postpone all in-person activities, including Sunday School, Small Groups and all Wednesday night Activities through April 4. We will watch how the situation is daily and will make adjustments when necessary.
+
Our priority is your safety and to keep you in the loop regarding schedule changes. For the most current information, please stay connected to our information center at www.uccalvary.com
We love you!
Pastor, Melvin B. Poe
Welcome
Welcome to the Calvary Baptist Church website. We are excited that you would take the time to view our site and see the many opportunities we offer in serving our Lord Jesus Christ. We hope to answer your questions as you browse our different pages. If you have any questions please feel free to contact us.
VERSE of the WEEK: That all the people of earth may know that the Lord is God, and that there is none else 1 Kings 8:60
Sunday
8:30 AM Worship
9:45 AM Sunday School
10:45 AM Worship
5:00 PM Various Bible Studies
6:00 PM Evening Worship
Wednesday
6:45 PM Wednesday Recharge Service
6:30 PM Youth-Wednesday Night Live
6:30 PM R.A.,G.A.& Mission Friends Ministry
Calvary Baptist Church Welcomes You!
We 're glad that you have stopped by to learn what we're all about. We hope you see our passion for Jesus and His gospel. He is the only reason that we do what we do — preaching, children's ministry, outreach, and even singing.
If you were to ask us to describe ourselves in one sentence, we would say, "We're a gospel centered, city focused, church community."
These three elements create the DNA for us to live all of life for the glory of Jesus. As a Gospel Centered church, you will notice that we believe the gospel is so much more than a starting point for people. The gospel is all of life, and it shapes the very way in which we live life together with our family, friends, city, and the rest of the world. We want to view and live all of life through gospel, which is the truth for all of us.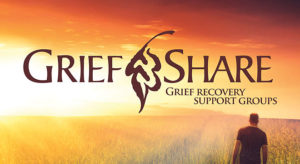 Sundays beginning March 8th at 4:00 PM
Tuesdays beginning March 10 at 6:00 PM
Welcome to the Calvary Baptist Church of Union City, TN Online Giving page.
If you are
NEW
to our
Online Giving Option
, please select "
click here to get started
" below. This will allow you to create your free online giving account for Calvary Baptist Church. Thank you!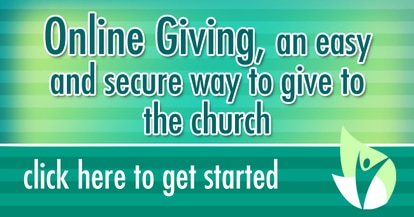 Where can God use your talents?

WORSHIP

CHILDREN